Travelandleisure.com - Fast food gets a bad rap, but these international favorites win our vote for the best chains to sample when you're on the go.
10. Barbados: Chefette
Chefette whips up inexpensive Bajan favorites like roti wraps and fried chicken in a casual fast-food setting. An extra perk: some of the 14 locations on this Caribbean island feature outdoor play areas for kids.
What to Order: Chicken and potato curry roti roll. chefette.com
9. Brazil: Giraffas
The Brazilian steakhouse concept goes casual at this meat-centric chain that turns out both burgers and grilled steaks with that national staple, a side of rice and beans.
What to Order: Flame-grilled picanha (top sirloin), a juicy and tender cut that's one of Brazil's most beloved steaks. giraffas.com
8. Taiwan: Din Tai Fung
Yes, there will be a line at this well-known dim sum destination, whose dumplings are so popular the chain has spread across 10 countries. But you'll be glad you waited, and once you're inside, you can take your time in the comfortable, if crowded, dining room.
What to Order: Xiao long bao, steamed soup-filled pork dumplings with a thin, delicate skin. dintaifung.com.tw
7. Puerto Rico: El Meson Sandwiches
The combinations are nearly endless at this Caribbean sandwich spot. Most sandwiches start with a base of mayo, margarine, cabbage, and tomato, then get piled high with juicy fillings and griddled on both sides.
What to Order: The Midnight sandwich: roasted pork, Virginia ham, pickles, mayo, and margarine on sweet, eggy bread. elmesonsandwiches.com
6. Australia: Chocolateria San Churro
As the name implies, chocolate is the focus at this bohemian-chic dessert chain, and the menu has a Spanish accent. Freshly fried churros and spice-laced hot chocolates are on offer alongside organic, fair-trade coffee and milkshakes.
What to Order: Churros with an individual pot of melted couverture chocolate. sanchurro.com
5. Canada: St. Hubert
With both quick-serve and slightly more upscale sit-down operations, family-friendly St. Hubert is known for its rotisserie chicken doused with a tangy brown sauce—so habit-forming that it's sold by the jar in Canadian grocery stores.
What to Order: Quarter chicken leg with bun, coleslaw, and French fries. st-hubert.com
4. Japan: Ippudo
It's all about ramen at this stylish chain, which features an open kitchen and bar and table-style seating. Most bowls start with the chain's signature slow-simmered pork bone broth and thin, chewy noodles. Toppings range from the traditional (roasted pork) to the more inventive (a Spanish-inspired bouillon cube).
What to Order: Akamaru Ramen with miso paste and roasted garlic oil. ippudo.com
3. South Africa: Nando's
Chicken, basted in one of four consecutively spicier piri-piri chili sauces and flame-grilled to order, is the star at this casual sit-down Portuguese-Mozambique chain. Cheeky advertisements and a welcoming, woodsy aesthetic have propelled Nando's into 30 countries worldwide.
What to Order: 1/2 grilled chicken with hot piri-piri sauce and French fries. nandos.co.za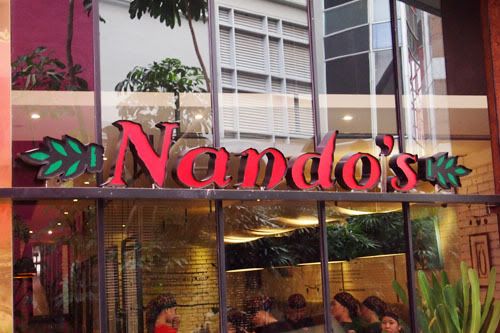 2. Russia: Teremok
It's easy to spot Teremok's 175 orange-and-red kiosks and restaurants that have sprung up in St. Petersburg and Moscow (the name is Russian for "fairy-tale cottage"). The main item is cooked-to-order blini, essentially Russian crêpes—perfect for eating on the go. Fillings run both savory (ham, cheese, smoked salmon) and sweet (chocolate, fruit, jam).
What to Order: Blini with red caviar, of course. teremok.ru
1. Philippines: Jollibee
Fast food gets a Filipino twist at this quick-serve chain, which is so beloved that its mascots star in their own children's television show. There are more than 700 locations across the country, serving everything from fried chicken and hamburgers to local favorites like palabok, rice noodles with meat sauce, shrimp, and hard-boiled egg.
What to Order: Spicy Chickenjoy, fried chicken coated with chili powder. jollibee.com.ph
RATE IT