Here are the 10 tallest men to play the game of basketball in the NBA. Some are lucky to be here just for their height and are hardly known to anyone not deeply involved with basketball, while others completed a very respectful and successful career in the NBA.
8. Ralph Sampson, 7′ 4" (2.24 meters) -Tied
NBA career length: 9 seasons (1983-1992)
Ralph Sampson to this day is still considered one of the greatest players in the college level, leaving Virginia with 3(!!!) Naismith national player of the year awards. He was expected to dominate the game once becoming pro and hyped as being an heir to Chamberlain and Russel. He started out pretty well, winning Rookie of the year award for the 83-84 season after being picked 1st by the Rockets in the 1983 draft. The 1984 draft added the Rockets with another big man phenom, Hakeem Olajuwon. The two were nicknamed "The twin towers" and enjoyed a fruitful partnership their first 2 seasons together, reaching the NBA finals in 1986, losing to the Boston Celtics.
8. Rik Smits, 7′ 4" (2.24 meters)- Tied
NBA Career length: 12 seasons (1988-2000)
The Dunkin' Dutchman played his entire NBA career for the Indiana Pacers and is still one of the all-time fan favorites there. He was drafted by the Pacers in the 1988 draft coming out of Marist College as the no.2 overall pick. Despite starting his first season as back up for Steve Stipanovich he took over as starting center after Stipanovich ended his career with a terrible injury. Smits took the chance with both hands and ended up on the All-Rookie first team that year, which was followed by a solid and successful career in which Smits scored in double figures each season he played, 95-96 being his best when he averaged 18.5 points per game
8. Mark Eaton, 7′ 4" (2.24 meters)- Tied
NBA career length: 11 seasons (1982-1993)
It's probably a freak accident that Eaton got to play in the NBA. He preferred Water Polo to Basketball during high school and served as auto mechanic for a few years after high school, only to be discovered by an assistant coach from Cypress Junior College. He played there before transferring to UCLA where he received very little playing time.
5. Slavko Vranes, 7'5", (2.26 meters) - Tied
NBA career length: 1 season
Vranes probably suffered from being so tall at such a young age, cause people actually expected him to be as good as he is tall. At 18 was already snatched by Turkish giant Efes Pilsen but was moved around until the Knicks (of course) saw some sort of potential in him and decided to pick him in the 2nd round of the 2003 draft. He didn't get to play for the Knicks and was signed by the Portland Trailblazers, only to play one game for the team before his NBA career came to an end. Since he has moved back to Europe, playing for Partizan Belgrade currently in Serbian League and the Euroleague. NBA career stats: 1 season, 1 game, 3 minutes, 1 missed field goal, 1 personal foul. Competes with Lauderdale for the worst player on this list.
5. Pavel Podkolzin, 7'5, (2.26 meters) - Tied
The 21 overall pick in the 2004 NBA draft, Podkolzin amassed a total of six NBA games, scoring 4 points, playing for the Dallas Mavericks. Since then, it's been the Russian League for him.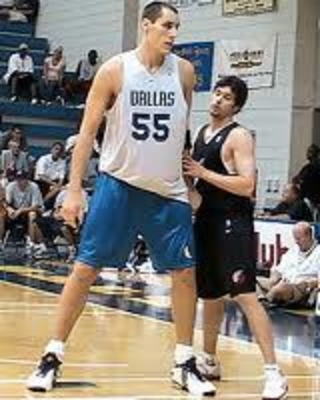 5. Chuck Nevitt, 7'5, (2.26 meters) - Tied
NBA career length: 1982-1994 (12 seasons)
There's an old basketball saying by Red Auerbach which said "You can't teach height" and that's pretty much the story about Chuck Nevitt. He was in and out of the league, he was on and off teams. He got to play for the Lakers, Bulls, Pistons, Rockets and Spurs and even got to be on the 1985 Lakers championship squad. If you add up his career minutes played total you get 18 total games played. He never played more than 43 games in one season, about half an NBA season. At least he got to be around some true legends.
3. Shawn Bradley, 7′ 6" (2.29 meters) - Tied
NBA career length: 12 seasons.
Bradley got picked no.2 in the 1993 draft by the 76′ers and that probably hurt the beginning of his career, as he was expected to be a savior of a sick franchise at the time. Bradley, like Eaton was a great shot blocker but wasn't as big as Eaton, thus suffering against strong inside men. Bradley was notorious for picking up fouls very quickly which limited his playing time. Only after moving to Dallas in 1997 it seemed Bradley was picking up and really getting comfortable with the NBA game, but after a few seasons, like every tall and lanky player, injuries started mounting up on his back and legs and his playing time and availability slowly started diminishing until he eventually retired after 2004-2005 season.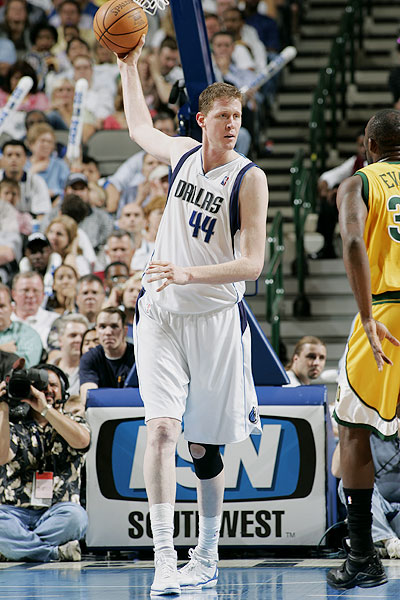 3. Yao Ming, 7′ 6" (2.29 meters) - Tied
NBA career length: 8 seasons
Recently retired, Ming hardly played any basketball after going down in the 2009 NBA playoffs against the LA Lakers. Heading up to the 2011-2012 season, Ming announced his retirement, sparking debated about his eligibility regarding the NBA hall of fame. Probably the most talented offensive player on this list, Ming, while certainly a game changer in terms of spreading NBA popularity across the globe, didn't do enough in eight seasons with the Rockets to claim a berth in the Hall of Fame, in my opinion.
1. Gheorghe Muresan, 7′ 7" (2.31 meters) - Tied
NBA career length: 6 seasons
He shares the title of the NBA's tallest player ever with Sudanese born Manute Bol. Muresan, born in Romania has a pituitary disorder that is the cause for his great height. After playing for Cluj University he moved to France to play for Pau-Orthez, where he caught the eye of NBA scouts, and in the 1993 draft was picked by the Washington Bullets (Wizards today). Despite a promising start, injuries plagued his rookie season.
1. Manute Bol, 7′ 7" (2.31 meters) - Tied
NBA career length: 10 seasons (1985-1994)
Together with Romanian giant Manute Bol is the tallest player to play in the NBA, and one of the nicest and popular among fans and teammates. Manute Bol had a tough time before starting his NBA career, being declared ineligible to play after being picked in the 1983 draft. It took him another 2 years before finally making it, being picked in 1985 draft by the Washington Bullets.
RATE IT